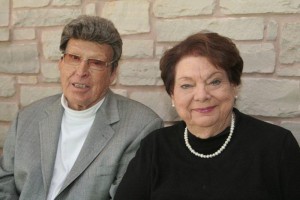 Throughout its existence, TBSS has maintained the integrity and continuity of its charitable vision through the active mentorship of its founders, whose lives illustrate how one man's experience of tragedy could be transformed into a couple's life of triumph. Critically burned and initially disfigured as the result of a military helicopter crash in 1959, David Jayne endured three years of painful medical treatment, surgical reconstruction and rehabilitation at Brooke Army Medical Center's Burn Unit.
Although David's burns were life threatening, he vowed he would return both to active duty as a pilot and to his life with the wife and family he loved. His wife Jane experienced firsthand the devastating impacts which burn injury and its treatment has upon the family of the patient and, through it all, she remained the backbone of David's recovery.
While David was still a patient, the couple began assisting others on the Burn Unit. Together, they determined to provide the burn injured the kind of financial, emotional, and peer support they themselves had so sorely needed, and in 1962 TBSS was born.
With Jane's support, David Jayne recovered fully and went on to achieve an active and fulfilling life, as well as great distinction in both military and legal careers. Through the Jayne's 40 years of mentorship, and the inspiration which their own example of survivorship has provided to others, TBSS has created successful programs of patient support which have assisted thousands of burn and thermal injury survivors to achieve a successful return to normal and productive lives.